18/9/79 Agnetha arrives in Portland by car. During the afternoon, time to relax by the hotel pool Concert in Portland, Portland Opera House (USA).
19/9/79 All members fly to San Fransisco by plane. Concert in Concord, Concord Palvillion (USA). Benny & Bjoörn meet journalists after the concert. After this, they immediately board the plane and fly to LA.
20/9/79 A day off.
21/9/79 ABBA and their children visit Disneyland.
21/9/79 Concert in LA Anaheim, Anaheim Convention Centre.(USA)
22/9/79 ABBA leave for San Diego during the afternoon. Concert at San Diego Sports Arena. ABBA go back to LA after the concert.
23/9/79 Concert in Tempe, The Active Centre.(USA)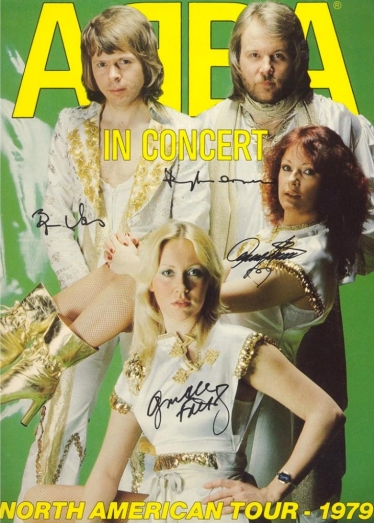 24/9/79 Concert in Las Vegas, Performing Arts Centre/Aladdin Hotel with daughter Linda singing together with the choir 'I Have A Dream'.
25/9/79 A day off with family and close friends.
26/9/79 ABBA leave for Omaha in the morning at 9.00. Concert in Omaha, Civic Auditorium.(USA)
27/9/79 Concert in Minneapolis/St. Paul, St. Paul Civic (USA) . ABBA is filmed backstage tonight for the 'ABBA in concert' video.
29/9/79 Concert in Milwaukee, Auditorium (USA)
30/9/79 Concert in Chicago, Auditorium Theatre.(USA)
October 1979:
'Gimme!, Gimme!, Gimme! ( A Man After Midnight)' - 'The King Has Lost His Crown. Single released.
2/10/79 Concert in New York, Radio City Music Hall. (USA)
4/10/79 Concert in Washington D.C. at the Constitution Hall.(USA) Concert was cancelled. Due to Agnetha being ill.
5/10/79 While Agnetha recovers, the rest of the group meet president Carter's daughter Ami at the White House.
6/10/79 Concert in Montreal, Forum (Canada) Agnetha is still recovering.
7/10/79 Concert in Toronto, Maple Leaf Gardens (Canada).
8/10/79 Flight back to Sweden.
9/10/79 Arrive back in Stockholm.