THE ABBA MEMBERS TODAY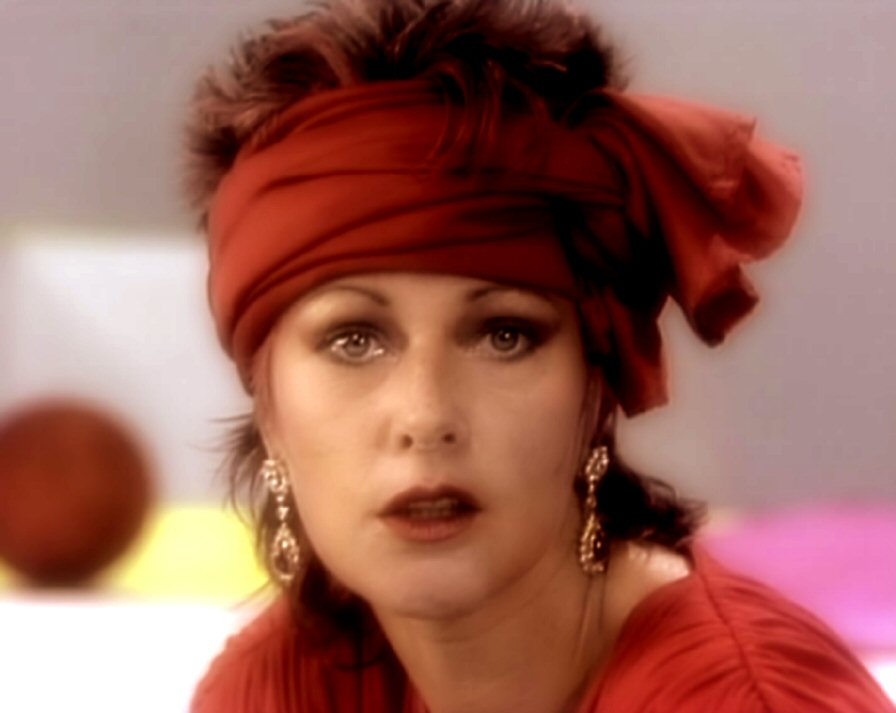 FRIDA
Frida recorded her first English-language solo album in 1982, ABBA's final year together. The album was called Something's Going On, and was produced by Phil Collins.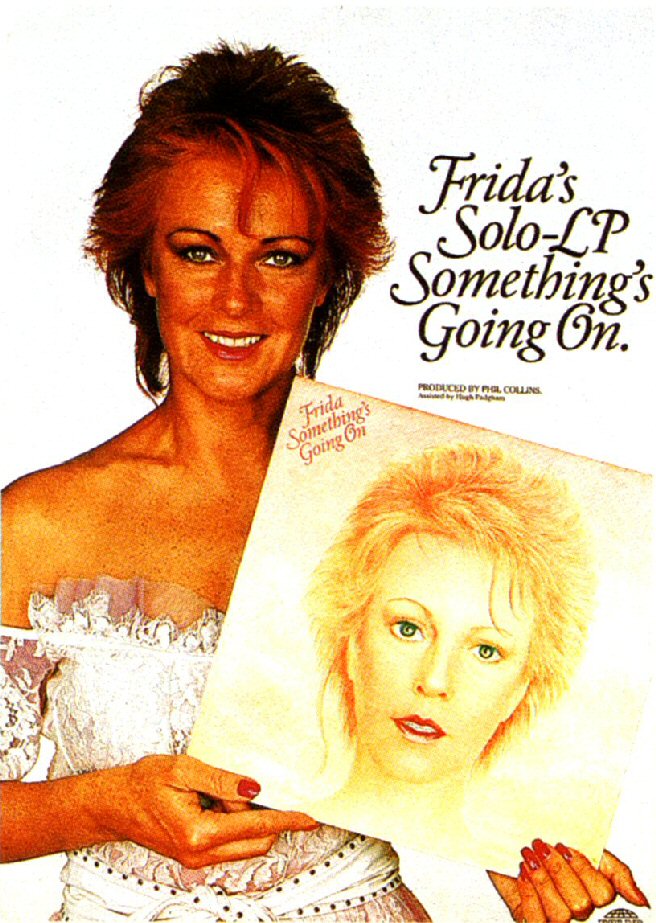 Something's Going on
In 1982, Frida felt it was time to record a solo-album again, this time in English and aimed at the international market. ABBA were spending less and less time together. Going through her divorce from Benny, Frida had heard Phil Collins' "In The Air Tonight," and then "listened to the album (Face Value) non-stop for eight months."
As Collins himself put it in a TV interview: "Frida and I had something in common as far as our divorces were concerned. We were both the injured party." Polar Music approached Collins, asking if he would be interested in producing Frida's new solo album. He accepted the offer, thus making this his second album to be recorded in the Polar Studios, the first being Genesis' Duke (1980).
Polar Music sent out invitations to publishing companies around the world, announcing Frida's plans and asking for songs suitable for the project. The response was overwhelming; more than 500 songs came in to the Polar Music offices in Stockholm. Among the composers who made it to the album's final tracklist were Bryan Ferry, Stephen Bishop, Rod Argent and Russ Ballard. The Giorgio Moroder/Pete Bellotte composition "To Turn The Stone" was originally written for Donna Summer's 1981 album I'm a Rainbow Frida also asked Per Gessle, later of Roxette, to set Dorothy Parker's bittersweet poem "Threnody" to music. A re-interpretation of the Face Value track "You Know What I Mean" - a song especially close to her heart, both musically and lyrically - was also included.
"Here we'll stay" was recorded as a duet with Phil Collins although he wasn't credited. When it was decided to release the song as a single in 1983, Collins declined to be associated with the track, and Frida re-recorded the song as a solo version.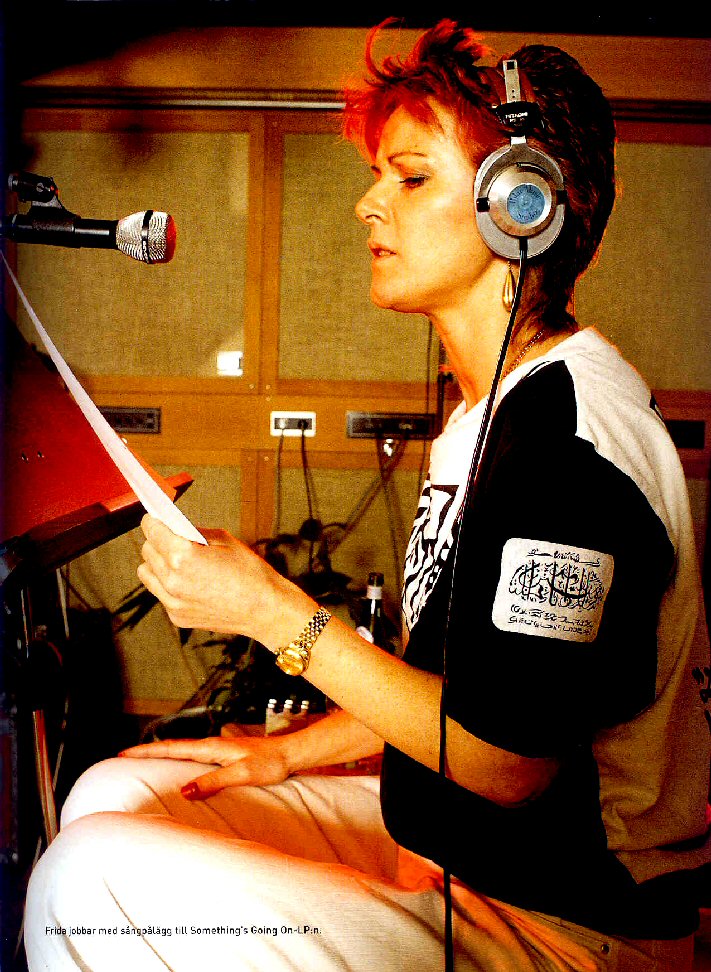 Recording began in the Polar Studios, Stockholm, on February 15, 1982 and continued until March 31. Earth Wind & Fire's horn players - also an important part of the Face Value album - came to Stockholm for a two day visit. Strings, orchestra, and harp were later recorded at Air Studios in London. Produced at a time when most commercial recordings still used only analog technology, the album was one of the few to be both digitally recorded and mixed.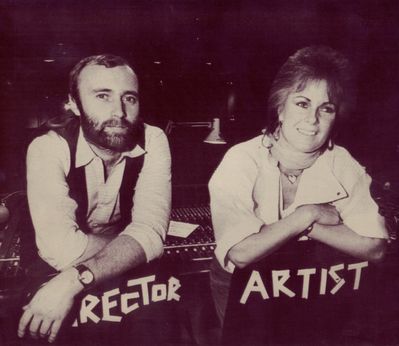 At the time of recording Something's Going On Frida wanted to distance herself from the "typical ABBA pop sound," (according to Frida herself). She wanted to break away from being associated with the group and make a fresh start both as an artist and as an individual. The new songs, new musicians, and new producer gave Frida a new identity. Collins' production and especially his unique drum sound heard throughout the album as well as the rough and raw guitar riffs of the lead single "I Know There's Something Going On" made it perfectly clear this was no lightweight ABBA record. All backing vocals were sung by Frida and Phil. The album closes with their duet "Here We'll Stay."
Swedish Television, SVT, documented this historical event, by filming the whole recording process. From day one in the studio to the release party when the album was completed. The result became a one hour TV-special, including interviews with Frida and Phil, Björn & Benny , as well as all the musicians on the album.This documentary is included in Frida - The DVD.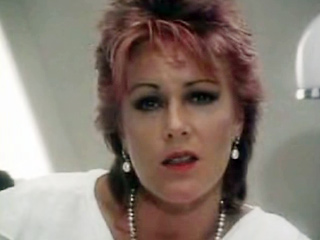 In the autumn of 1982 Frida unveiled the results of these recording sessions by releasing the single and video "I Know There's Something Going On."
An extensive promotion tour of Europe and the United States followed. In Europe, Frida went to all the major countries and performed both the single and other songs from the album on major TV-channels. The album received positive reviews by critics. Billboard wrote: "ABBA's auburn-haired songstress makes a bold solo-project a stunning success" and Mark Coleman described the album in the third edition of Rolling Stone Album Guide as a "sharp, rock-oriented, delightfully eclectic album. Audiences around the world also accepted the new, rockier sound and both the album and its lead single soon started climbing the charts; the single became a #1 hit in France (where it spent five weeks at the top), Belgium, Switzerland and Costa Rica, and reached the Top 10 elsewhere throughout Europe.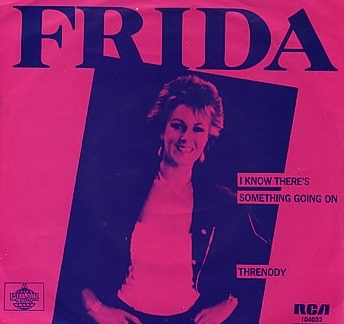 It also became a huge success in Australia and South Africa - it peaked at number 5 on both charts. In the United States, the single reached a respectable #13 on the Billboard Hot 100 chart and #9 on Radio & Records airplay. The single was heavily promoted on MTV. The single sold some 3.5 million copies and Frida as a solo artist did in fact far better on the charts than any of the ABBA-singles of 1982. The album sold 1.5 million copies worldwide, making this the best-selling solo project of any of the former ABBA members to date. A notable exception to its success was in the UK, traditionally a hugely popular market for ABBA, but the single never got in to top 40. The album, however, was a top 20 hit (peaking at #18). "I See Red" was released as a single in South Africa but did not fare as well as its predecessor, and did not reach the official Top 20 national charts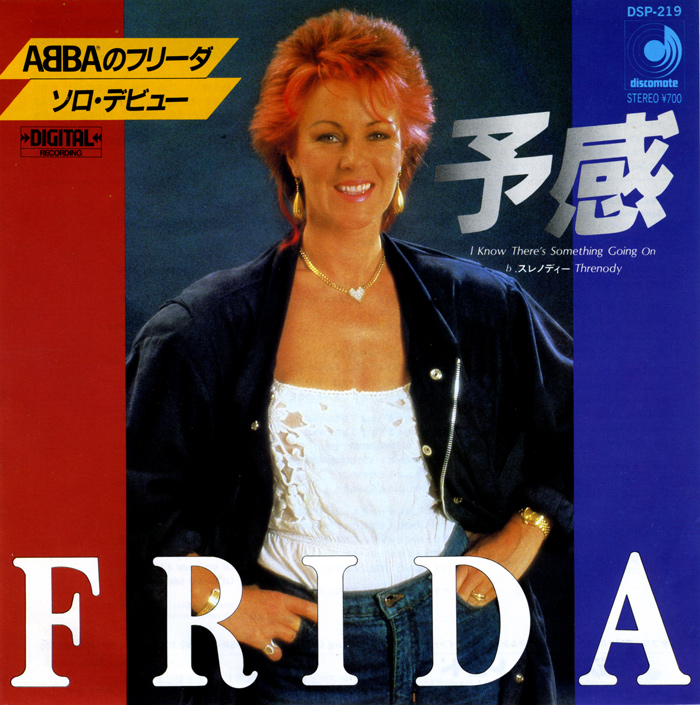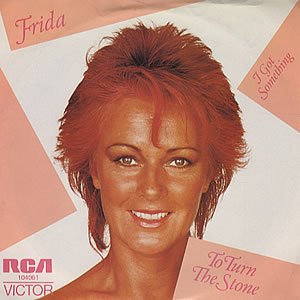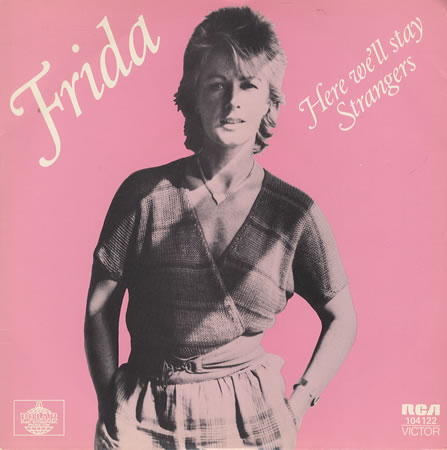 "Something's Going On"

Released: September 6, 1982

Polar

Recorded February 15- March 31, 1982 Polar Studios, Stockholm

Track listing Side A:(LP)

Tell Me It's Over (Stephen Bishop) – 2:52

I See Red (Jim Rafferty) – 4:33

I Got Something (Tomas Ledin) – 4:04

Strangers (Jayne Bradbury, Dave Morris) – 4:06

To Turn The Stone (Pete Belotte, Giorgio Moroder) – 5:26

Side B:(LP)

I Know There's Something Going On (Russ Ballard) – 5:29

Threnody (Per Gessle, Dorothy Parker) – 4:17

Baby Don't You Cry No More (Rod Argent) – 3:02

The Way You Do (Bryan Ferry) – 3:38

You Know What I Mean (Phil Collins) – 2:37

Here We'll Stay (duet with Phil Collins) (Tony Colton, Jean Roussel) – 4:10

2005 remaster bonus tracks

I Know There's Something Going On

(Single Edit)" (Ballard) – 4:07

Here We'll Stay" (Solo Version) (Colton, Roussel) – 4:11

In 1982, Frida won the Swedish music prize Rockbjörnen for the Best Female Artist.

In 1984, she released the album Shine, produced by Steve Lillywhite, before abandoning her music career and devoting herself to family life and environmental work.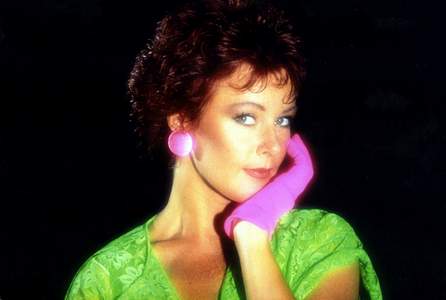 Shine was first released in September 1984 and has since been re-released several times, mainly in the digitally remastered form in 2005 with bonus tracks. Shine is included in The Frida Boxset. The promotion videos and clips from this album are included in the 31⁄2 hour documentary Frida the dvd. Shine was the follow-up to Frida's 1982 album Something's Going On.
Recording began on February 1, 1984, at the Studios de la Grand Armée, Paris, France. Producer was 29 years old Steve Lillywhite, already known for his work with Peter Gabriel, Rolling Stones and U2 amongst others. The lead single from the album was the titletrack, "Shine". In some countries "Twist In The Dark" and "Heart Of The Country" were released as singles. Shine reached the Top 10 on the album charts in Sweden, Norway and Belgium, and the Top 20 in the Netherlands.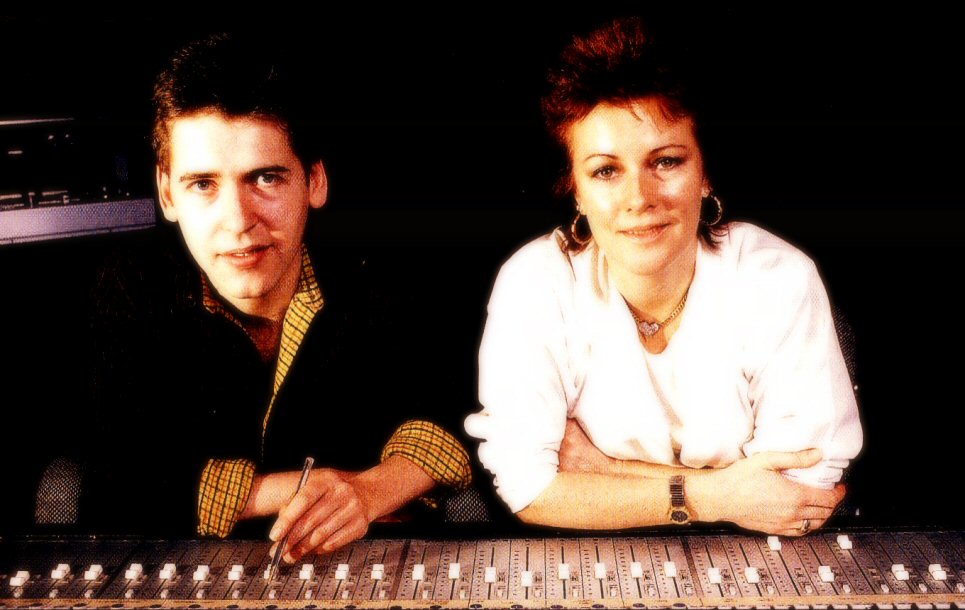 The Shine album is considered to be "ahead of its time" At the time of recording both Something's Going On and Shine, Frida wanted to distance herself from the "typical ABBA pop-sound" and try new directions. Lillywhite managed to deliver an even more modern and complex soundscape than Phil Collins had done on her previous album. In Frida the dvd, when speaking about Shine, Frida says "that maybe this album became a bit too modern for its time".] Shine is full of complex arrangements and odd sounds. A few years later, though, groups like Duran Duran and others where releasing records with this "typical" sound of the eighties, that Shine had already delivered in 1984. Lillywhite and his musicians managed to create a good and relaxed atmosphere in the studio and this can be heard in Fridas voice and vocals. Her voice sounds very natural and is in good shape throughout all the songs and vocally Shine is one of her best albums.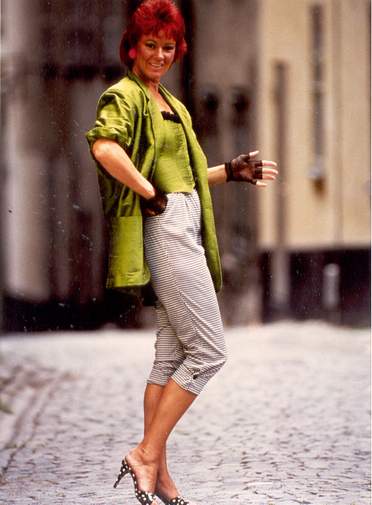 Shine features songwriting contributions from musicians such as the late Kirsty MacColl, Simon Climie — of Climie Fisher fame, and Pete Glenister - Alison Moyet's co-writer and producer. The Shine album is also unique because it saw the debut of Lyngstad as a songwriter in both "Don't Do It" and "That's Tough", the latter also features her son Hans Fredriksson as co-writer. (Frida also wrote "I Don't Wanna Be Alone," during this period). The track "Slowly" was written by Benny Andersson and Björn Ulvaeus of ABBA. This song is also the last song written by the ABBA-composers to be recorded by either of ABBA's female vocalists to date.
Shine has never been officially released in the United States, but was issued in Canada by WEA. Phil Collins was to produce again, but as Genesis formed part of his other commitments, producer Steve Lillywhite took over his role.
Shine is Frida's last English language studio album to date.
Single's from Shine
"Shine"

Released: September 11, 1984

Recorded February 1 - March 31, 1984,at the Studios de la Grand Armée, Paris, France.

Track listing

Side A:

Shine (Kevin Jarvis, Guy Fletcher, Jeremy Bird) – 4:39

One Little Lie (Simon Climie, Kirsty MacColl) – 3:44

The Face (Daniel Balavoine, Kirsty MacColl) – 3:40

Twist In The Dark (Andee Leek) – 3:43

Slowly (Björn Ulvaeus, Benny Andersson) – 4:34

Side B:

Heart Of The Country (Stuart Adamson)– 4:38

Come To Me (I Am Woman)" (Eddie Howell, David Dundas) – 5:04

Chemistry Tonight (Pete Glenister, Simon Climie, Kirsty MacColl) – 4:56

Don't Do It (Anni-Frid Lyngstad) – 4:37

Comfort Me (Pete Glenister) – 4:28

2005 remaster bonus tracks

That's Tough (Anni-Frid Lyngstad, Hans Fredriksson, Kirsty MacColl) - 5:03

Shine (Extended Mix) (Kevin Jarvis, Guy Fletcher, Jeremy Bird) - 6:31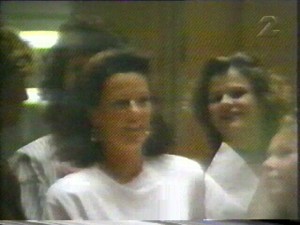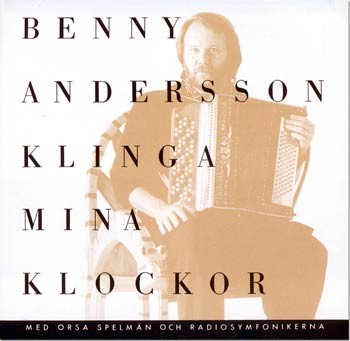 In 1986 Frida was in the choir for the recording of her former husband Benny Andersson's song "Klinga Mina Klockor".
---
| | |
| --- | --- |
| In 1987, Frida recorded the single "Så Länge Vi Har Varann" ("As Long As We Have Each Other") with the Swedish pop group Ratata, one of Fridas favourites. One day singer/songwriter Mauro Scocco called and said he had a song suitable for a duet. After hearing it, she accepted immediately. The song was and still is, a big success in Sweden. | |
| The song was also recorded in English under the title "As long as I have you". An English language video of the song was produced and an Australian release of this song which was scheduled with Festival Records for January 1998 was eventually shelved. Festival tried to get permission for 2 Australian singers to re- record the song but this also fell through. | |
---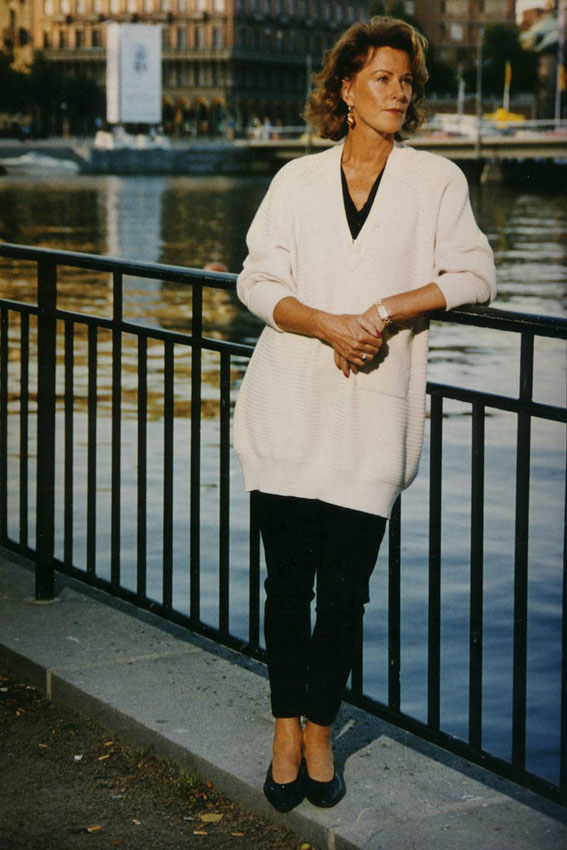 In 1990, Lyngstad became a member of the committee of the Swedish environmental organization Det Naturliga Steget (The Natural Step). The organization wanted a "famous face" to help them reach the public, and in 1991 she became c

hairwoman for the organization Artister För Miljön (Artists For The Environment).

In 1992, Frida performed live at the Stockholm WaterFestival at the Kings Castle.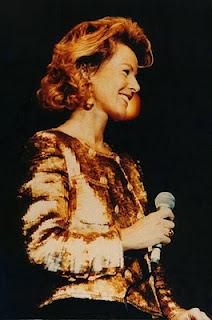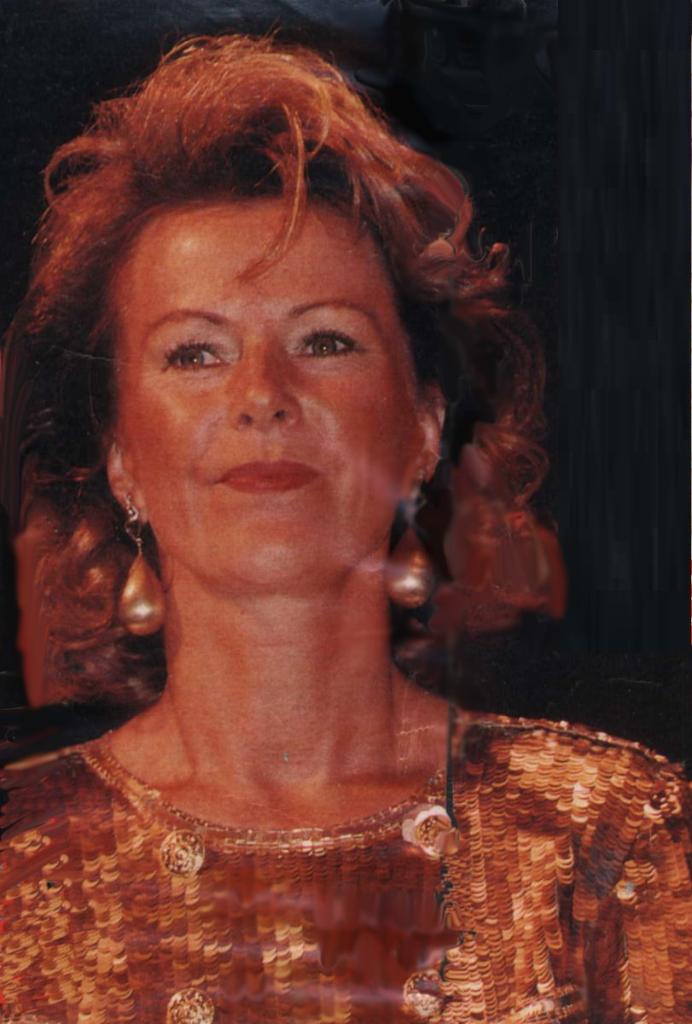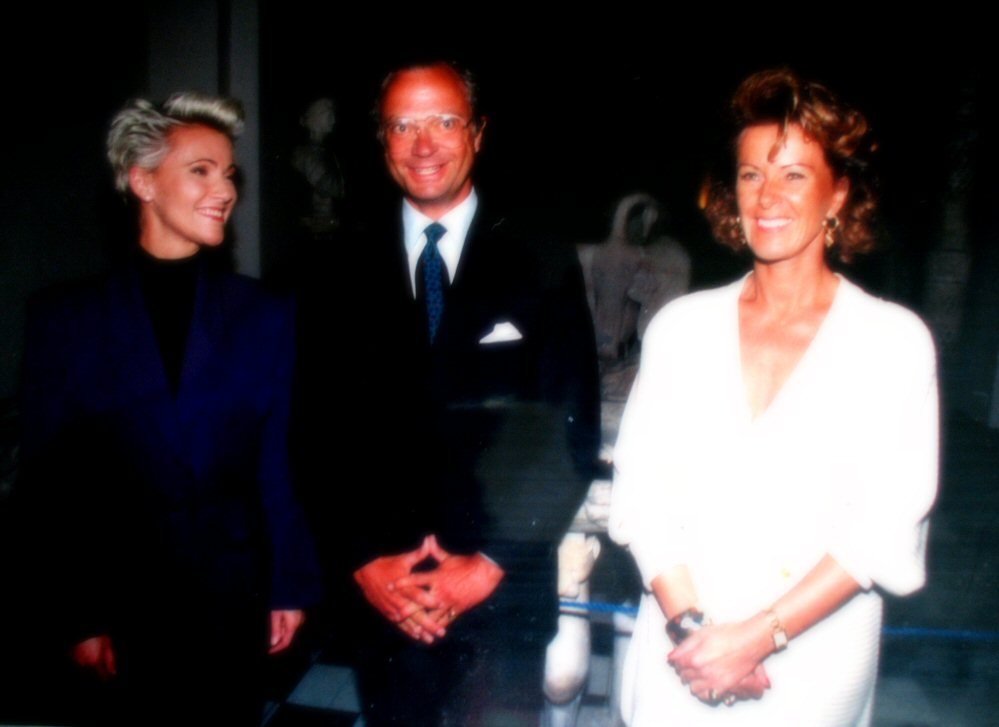 Artister För Miljön released the environmental charity single Änglamark" (in Artister för miljö) 1991with a bonus song, her cover of Julian Lennon's song "Saltwater". All the money from this single went to charity.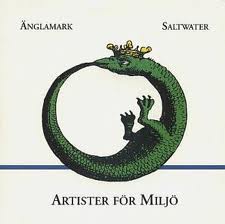 ---
Frida and Prince Ruzzo married on August 26, 1992.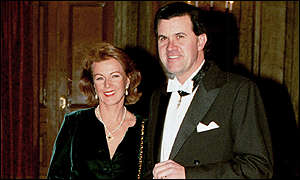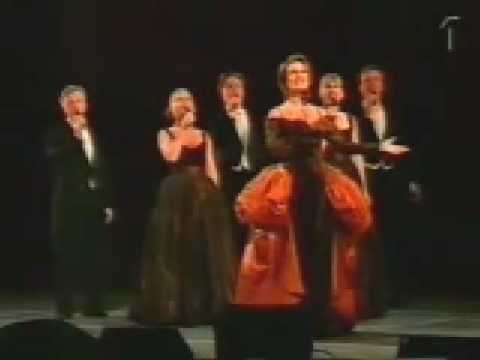 In 1993, on Queen Silvia's 50th birthday, Frida was asked to perform "Dancing Queen" on stage, as performed by ABBA when the king and queen got married. Frida contacted The Real Group and together they performed the song at the Stockholm Opera House in front of the king and queen. The Swedish prime minister at the time, Ingvar Carlsson, also present that night, said it was an ingenious step to do "Dancing Queen" a cappella. This performance was filmed by Swedish TV and can be seen in Frida - The DVD.
---
She made a comeback in 1996 with the Swedish-language album Djupa andetag ("Deep Breaths"), which remains her last album to date.

Lead single from the album was "Även En Blomma" ("Even A Flower").
Djupa andetag (Deep Breaths) , released in 1996 was recorded in the Polar Music Studio, Stockholm. The lyrics are in Swedish. The album went to #1 in Sweden.

This is a mature album with lyrics dealing with both "inner personal environment" as well as the environment and the nature surrounding us. At the time of recording, Frida did not want the attention an international release would bring and she also felt for singing in her mother tongue again, so the album was recorded in Swedish and released in Scandinavia only.

Frida originally asked Agnetha Fältskog to record "Alla mina bästa år" with her but Agnetha declined citing fear of ABBA reunion rumours.

Frida wrote the lyrics of "Kvinnor Som Springer" ("Women Who Run") after she read Women who Run with the Wolves by Clarissa Pinkola Estes, because it inspired her so much. It is one of the few songs she's written in her entire career.
Djupa andetag

Released: September 1996

Label: Anderson

Track listing

"Älska mig alltid" Musik &Text: A.Glenmark 4:36

"Ögonen" Musik &Text: A.Glenmark 4:19

"Även en blomma" Musik &Text: A.Glenmark 4:38

"Sovrum" Musik &Text: A.Glenmark 3:49

"Hon fick som hon ville" Musik &Text: A.Glenmark 4:37

"Alla mina bästa år" (Duet with Marie Fredriksson)

Musik &Text: A.Glenmark 4:44

"Lugna vatten" Musik &Text: A.Glenmark 3:29

"Vem kommer såra vem ikväll?" Musik &Text: A.Glenmark 4:36

"Sista valsen med dig" Musik &Text: A.Glenmark 5:31

"Kvinnor som springer" Musik A.Glenmark Text Frida. 4:46
Frida – The Mixes

Track listing

Alla Mina Bästa År (Hasbrouck Heights Single Mix 5:06)

Ögonen" (Lemon Mix 4:37)

Även En Blomma (Version 6.34)

Alla Mina Bästa År (Mix Adagio 5:04)

Ögonen (Version 4.23)

Alla Mina Bästa År (TV track 5:04)

Alla Mina Bästa År (Adagio Instrumental 5:03)
---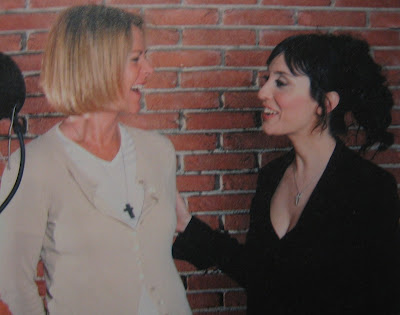 Several one-off recordings followed, including a 2002 duet with opera singer Filippa Giordano of the "Barcarolle" from Jacques Offenbach's Les contes d'Hoffman "Barcarolle" is only available on the Japanese edition of Giordano's album Rosso Amore,
---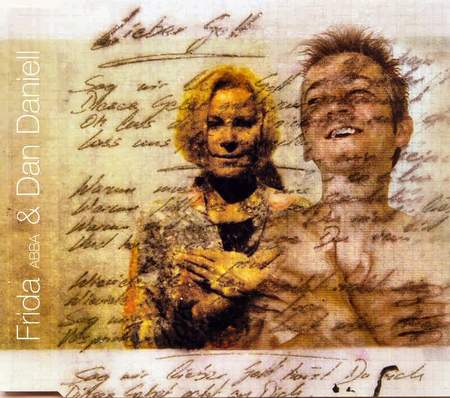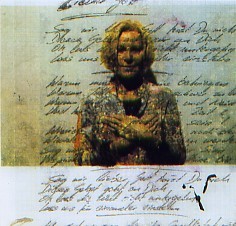 In 2003 Frida recorded a duet with long time friend with Dan Daniel called "Lieber Gott" and they also recorded Abba's "I have a dream"
---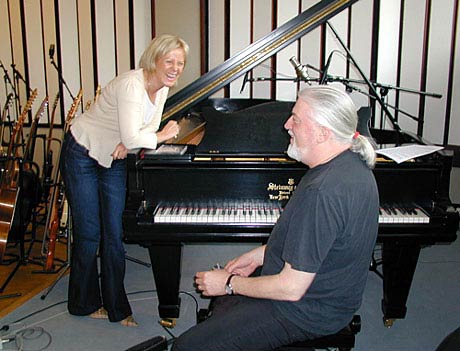 in 2004 she recorded the song "The Sun Will Shine Again", written especially for Lyngstad by former Deep Purple member Jon Lord, . Neither of these were however released as singles: and "The Sun Will Shine Again" can be found on Jon Lord's album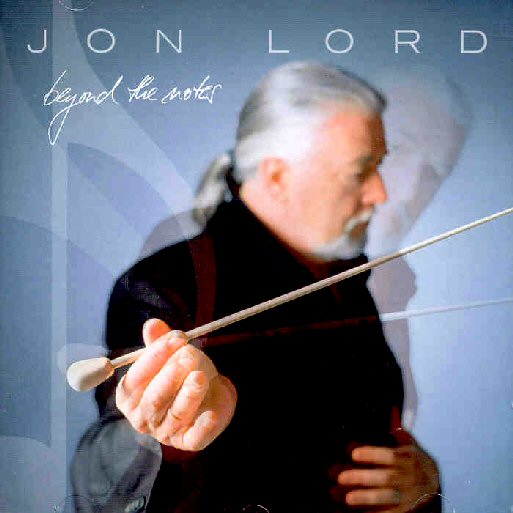 Beyond The Notes (although a limited-promotional single had been made available).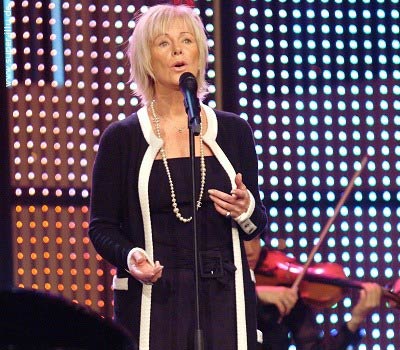 Frida and Jon Lord made several TV appearances in Germany performing the song, on shows like The Sunday Night Classics and The Golden Henne Gala.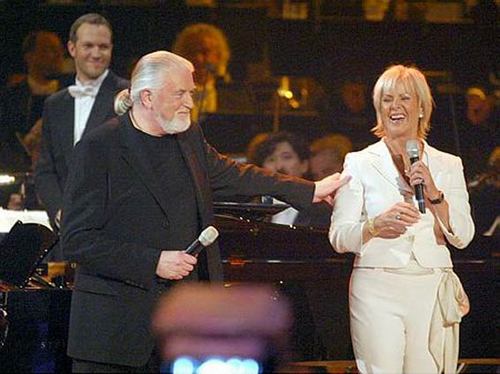 Frida also joined Lord on stage singing the song during his European autumn tour in 2004. During this tour, she also performed "In The Deep Midwinter".
---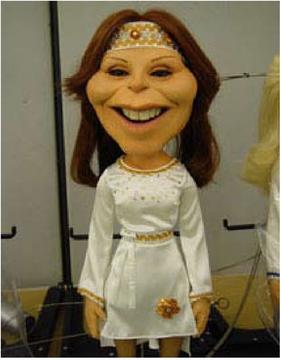 For the 2004 semi-final of the Eurovision Song Contest, staged in Istanbul thirty years after ABBA had won the contest in Brighton, Frida appeared in a special comedy video made for the interval act, entitled Our Last Video. Each of the four members of the group appeared briefly in cameo roles, as did, amongst others, Cher and British comedian Rik Mayall. The video was not included in the official DVD release of the Eurovision Contest, but was issued as a separate DVD release on the Universal Music label. It was billed as the first time the four had worked together since the group split in 1982 - a partial truth. In fact, they each filmed their appearances separately.
---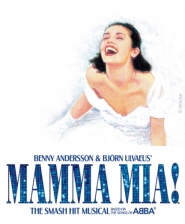 Also in 2004, Frida appeared with Benny and Björn at London's fifth anniversary performance of Mamma Mia!, the musical based on ABBA songs.
---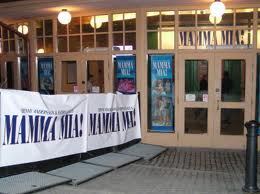 In 2005, she joined all three of her former ABBA colleagues at the Swedish premiere of Mamma Mia! at 'Cirkus' in Stockholm.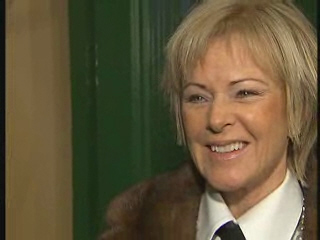 ---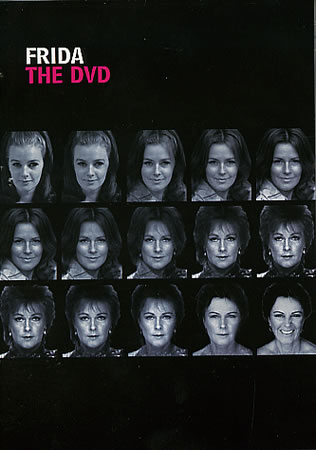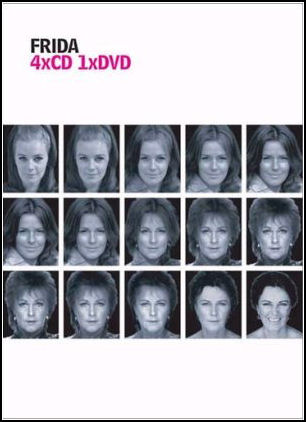 On 15 November 2005, to celebrate her 60th birthday, Universal Records released the box set "Frida", consisting of all the solo albums she recorded for Polar Music, all digitally remastered and including a set of bonus tracks. Also included is Frida - The DVD. On this 3½ hour DVD Frida talks about her entire career in the music business.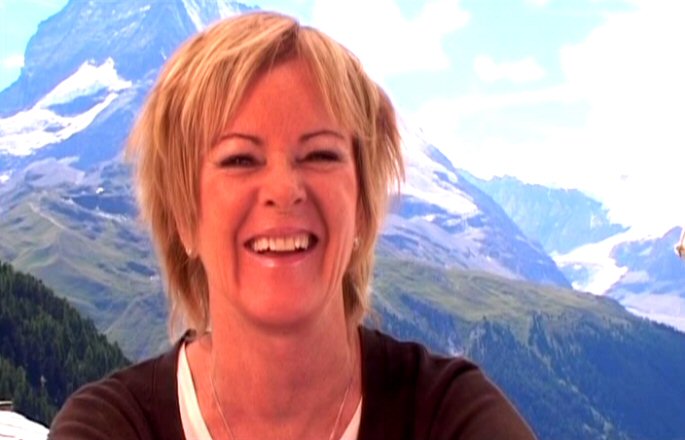 Filmed in the Swiss Alps, she talks about her singing technique and about her career both before and after Abba and explains how songs were performed and recorded. In collaboration with Swedish TV, SVT, the DVD includes many rare TV clips from her early performances, like her first TV performance with "En Ledig Dag", ("A Day Off"). Also included are TV-documentaries about the making and recordings of Something's Going On and Djupa andetag (Deep Breaths).
---
A Tribute to Frida

Philippe Elan & Jean-Marie Potiez

Berlin: Schwarzkopf & Schwarzkopf Verlag, 2006

ISBN 3-89602-692-5

156 pages

This book with lots of photos from the private archives of the authors covers Frida's career from the beginning in a jazz club to her present environmental activities and the anti-drug project Mentor. It also includes unpublished pictures with Agnetha, Björn and Benny.
---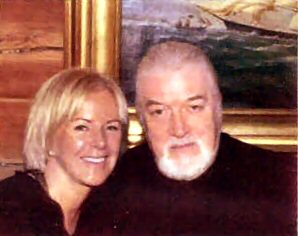 In an October 2007 interview Frida said she and Jon Lord had been discussing the possibility of a full-length album project, but had not yet progressed beyond the discussion stage.
Frida has a continuing involvement with various charitable causes, including promoting healthy, anti-drug lifestyles for young people.
---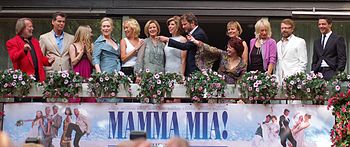 On July 4,2008, she joined former colleagues Agnetha Fältskog, Björn Ulvaeus and Benny Andersson at the Swedish premiere of the film version of Mamma Mia!, held at the Rival Theatre (owned by Benny) in Mariatorget, Stockholm.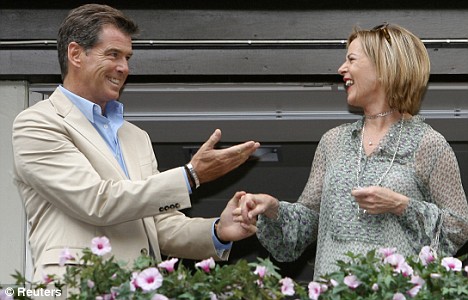 She arrived prior to Meryl Streep, and after Agnetha, who arrived early.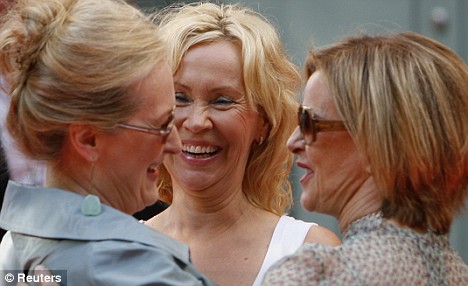 The three danced in front of thousands of fans before joining the film's other stars and Andersson and Ulvaeus on the hotel balcony for the first photograph of all four ABBA members together in 22 years.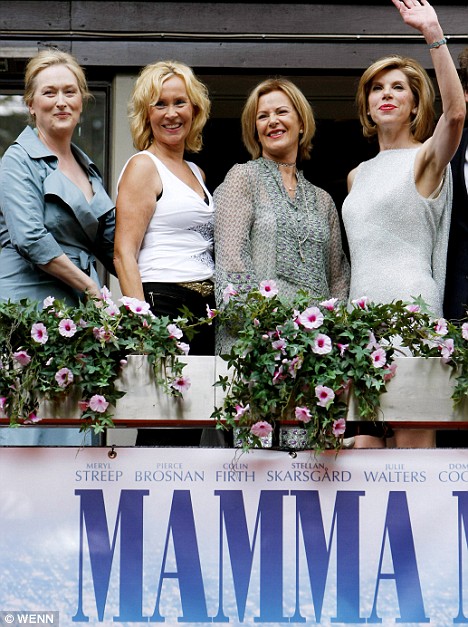 ---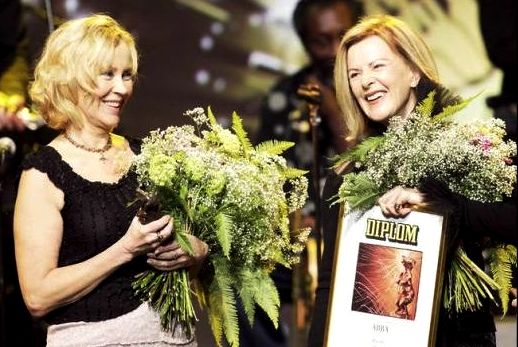 In January 2010, Frida appeared onstage together with Agnetha at swedish Rockbjörnen Awards to receive a lifetime honorary award for ABBA.
---

In February 2010, Frida with Börn attended the opening night of ABBA World, an extensive multi-million pound exhibition, which debuted at London's Earls Court.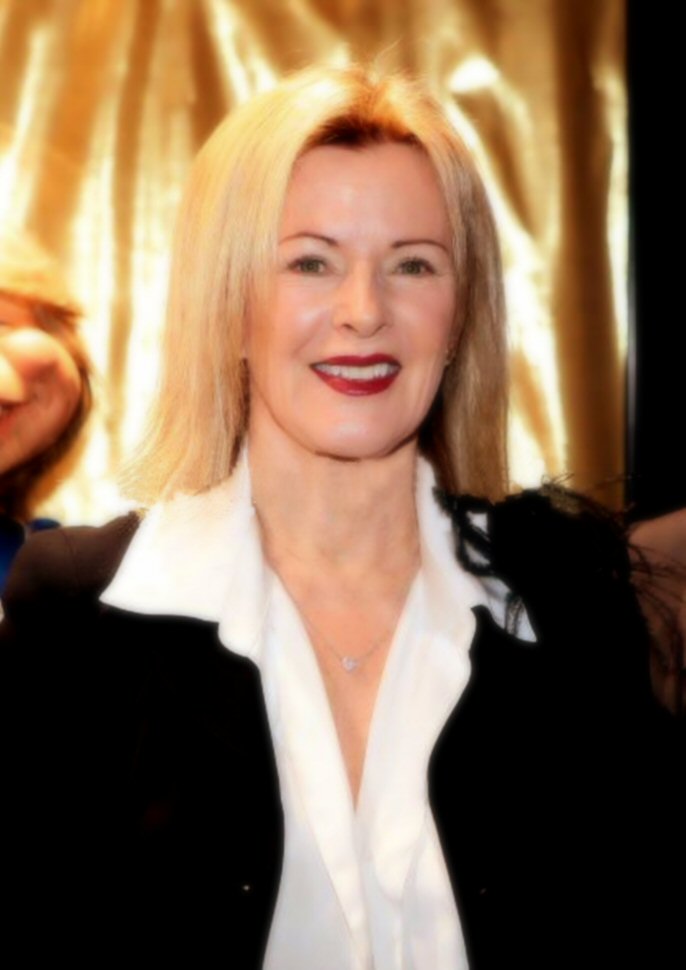 ---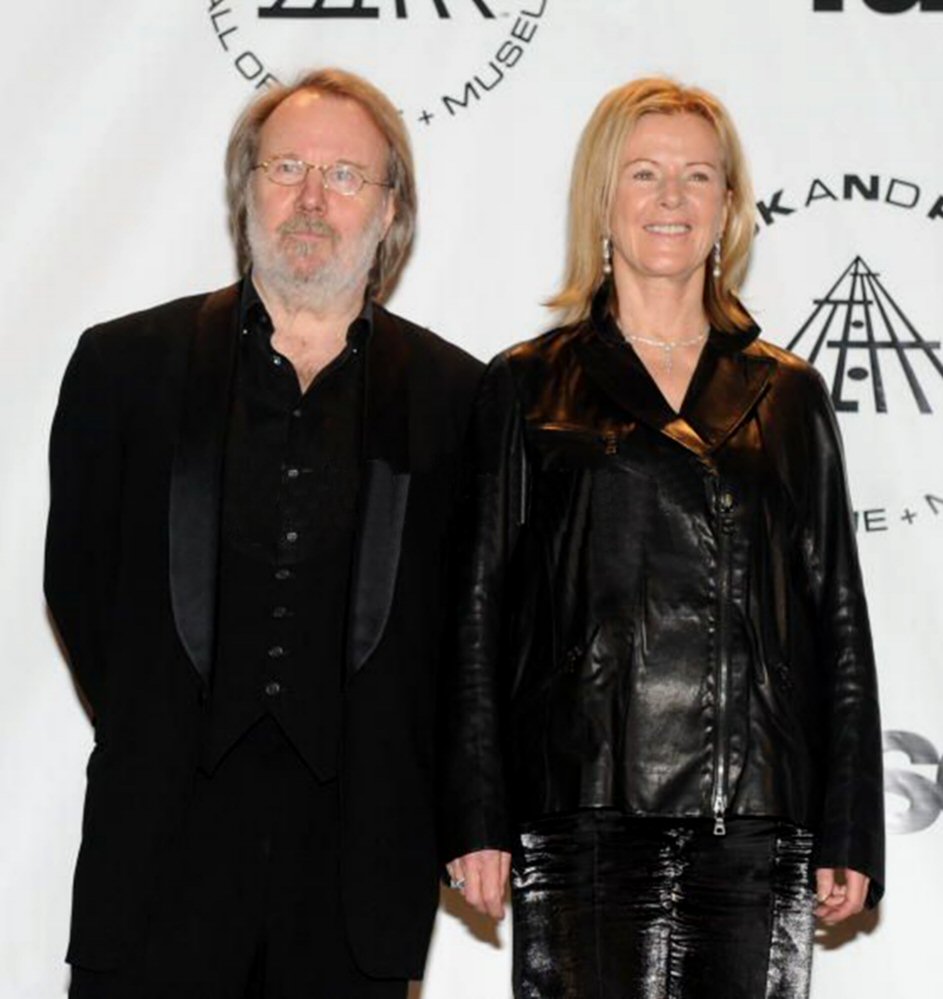 On 15 March 2010, Frida appeared onstage in New York with former husband Benny Andersson to accept ABBA's award of induction into the Rock and Roll Hall of Fame. During her acceptance speech she recognised that the success of the band had begun with their personal partnerships. She also recognised her grandson, Jonathan, then 21, a guitarist for the Rochester NY-based heavy metal band The Dream Anatomy.
---
| | |
| --- | --- |
| | In September 2010, a new album by musician Georg Wadenius titled "Reconnection" was released. Frida and George had discussed working together for many years, as they had long been good friends. The album opens with her rendition of the traditional tune Morning Has Broken This song by Cat Stevens, is a favourite for Frida and the song was also on the playlist in the church for Frida and Prince Ruzzo's wedding on August 26, 1992. |
---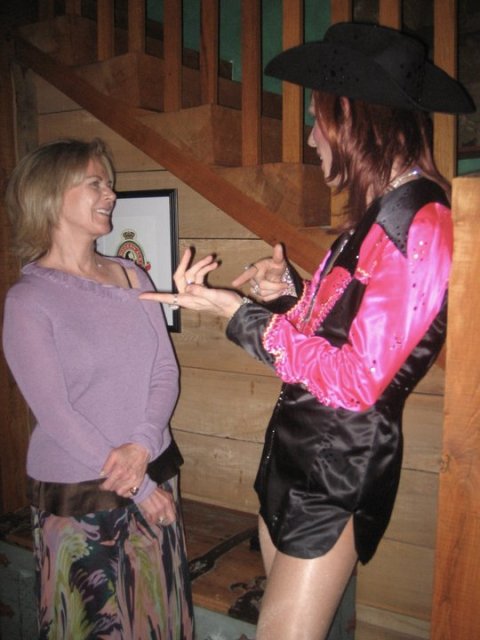 On 16 February 2011 BBC Radio 4 broadcast a 45 minute play featuring Frida and the play's writer, long term fan and performer Christopher Green. The play, Like An Angel Passing Through My Room, was billed as 'a story about love. The unconditional love of a devoted fan...about a real and an imagined intimacy.' It was a project several years in the making; what started as an upbeat reflection on fame and the notion of being a fan, developed into a meditation on the communication between two people and coping with the blows life deals. In an interview with Frida she and Green talked about her long recovery from the death of her husband in 1999. The play is deeply personal and reflective but with a firmly comic sensibility.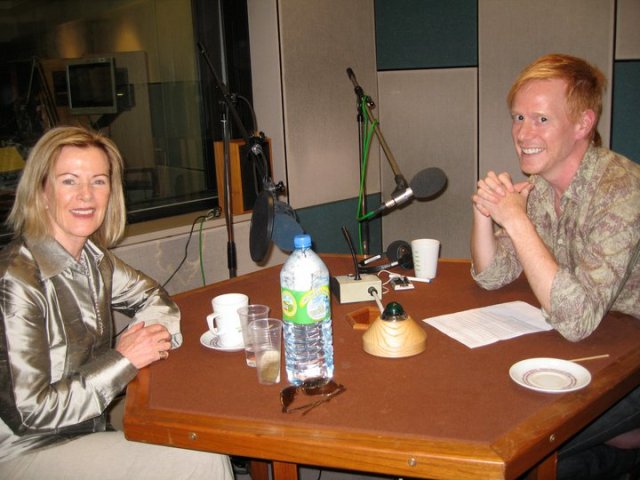 ---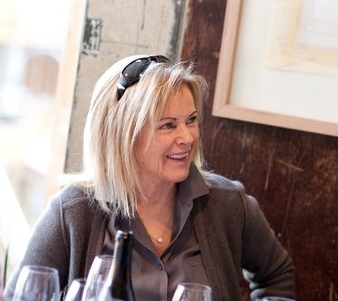 Frida frequently attends celebrity events in Stockholm and London, and the occasional Mamma Mia! events. Otherwise she maintains her private life at her home in Switzerland.