She released her second English solo lp in 1985 - EYES OF A WOMAN. During this time the Swedish press were having a field day with her love life and she found everyday brought more and more false reports on her life, teaming her up with just about every man she was seen with. She finally took matters into her own hands and with help from Britta Ahman (later to write Agnetha's biography) they wrote on open letter to the press, and in the form of an interview cleared up a few matters that concerned Agnetha. This calmed them down a little for a short time and she went about getting on with her career. She starred in a Swedish movie called RASKENSTAM, it was a big hit in Sweden.
In 1988 she teamed with American Peter Cetera to create her ultimate album the brilliant I STAND ALONE. Till now it seems this is her final solo album as she has not recorded anything since then. She stunned her fans when in 1990 she secretly married. The man in question, a Swedish surgeon named Thomas Sonnenfield. But tragically Agnetha's chance of lasting happiness ended 18 months later when the couple filed for divorce. After this she was rarely seen and tended to keep away from the media living a quiet and extremely private life with her two children. In 1995 she was seen in public at the 50th birthday party for Bjorn. It was the first time she had been photographed by the press in 8 years and they went wild, she hit the front cover of the papers next day. But this was not to be a one off event. More and more she started to be 'seen'. She was again, all over the front of the newspapers when she attended the premiere of Bjorn and Benny's musical KRISTINA FRÅN DUVEMÅLA, as her and Björn's daughter, Linda had a small part in the show.
By this time she had announced she was to write her autobiography and release a Greatest Hits CD. All an Agnetha fan could want and more, she was back! The book co-written with her friend of many years, Britta Åhman was released in late 1996, the book written in Swedish features many unpublished photos chosen by Agnetha, many from her own private collection. (An English translation was later released titled "AS I AM -ABBA BEFORE AND AFTER") The greatest hits collection, a double CD set was released at the same time and did quite well in Sweden. And like the book an English release of a collection simply titled "THAT'S ME - THE GREATEST HITS" was soon to follow. But this time the Cd featured a previously unreleased track called "THE QUEEN OF HEARTS". Will she ever record again? On this subject Agnetha says: "People think that I have closed all doors. That I am not interested in anything anymore. But I haven't closed any door. Neither about myself, nor movie roles, or singing again."
The press reported that Agnetha had indeed found her musical calling once again as she began recording a new solo album in 2001. But her chosen producer Mickie Tretow suffered a stroke and the plans were put on hold until his recovery was complete. The result was the amazing album MY COLOURING BOOK which contained the massive hit IF I THOUGHT YOU'D EVER CHANGE YOUR MIND and the follow up hit WHEN YOU WALK IN THE ROOM.
AGNETHA FÄLTSKOG WAS BACK! Since then nothing new, but that does not mean the end........
2012 Agnetha was awarded "Fashion Icon Award" by the Swedish "ELLE" magazine in Stockholm.
Agnetha at ELLE awards 14/1/2012
The jury said: "A brilliant superstar – one voice in a million. A fashion legend, just as stylish now as then. Thanks for all the glittering outfits. Thank you for the music. You are forever our dancing queen – Agnetha Fältskog "
Agnetha was given a special award by the Swedish edition of ELLE magazine during its annual gala in Stockholm last night. "ELLE Fashion Legend" The award was the last to be handed out at the ceremony, and Agnetha received a standing ovation from the audience.She was very moved by the honor. See Gallery below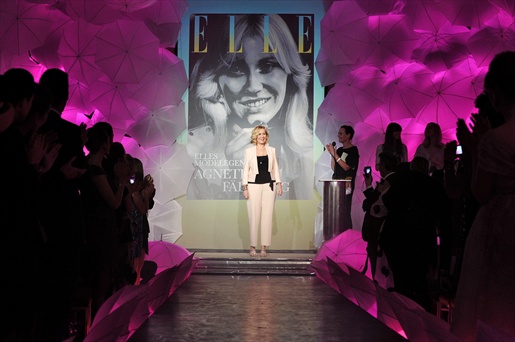 In 2013.....She's was BACK!!!! with her new Lp "A" - follow the link below to find out more!